Why are these recruitment agencies operating at a loss?
Posted by Nigel Harse FRCSA on 25 October 2017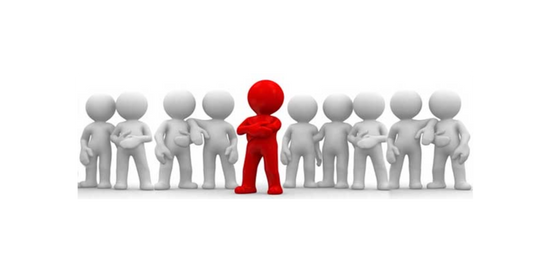 The recruitment & staffing industry is enjoying strong market conditions, but still one in seven agencies are trading at a loss. Here's why.
Sure, many industry professionals are reaping the rewards of buoyant market conditions, but some Australian recruitment agencies are currently operating at a loss.
Staffing Industry Metrics data shared with APositive this week shows of the 114 Australian recruitment agencies studied, most are benefiting from flexible workforce sales and a healthy permanent market.
In fact, research shows, these are the strongest trading conditions we have seen in a very long time. What's more, the majority of business owners are feeling positive about the immediate-term business conditions.
However, this isn't the case for all recruitment agencies. Our insights this month show, one in seven agencies are trading at a loss in 2017.
The data recorded from January until August 2017, shows 13 per cent of agencies surveyed are trading at a loss.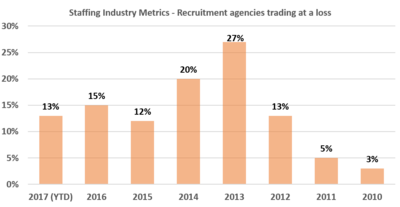 This chart indicates a consistent 12 to 15 per cent of recruitment agencies have traded at a loss during recent years. Although this is a big improvement from 2013 when almost 30 per cent of agencies were not trading well, more can be done to turn things around.
So, why are some recruitment agencies trading at a loss?
There are four key factors that stand out:
1. Staff churn is up and well above industry average for most agencies (40 per cent or more). This is the biggest profit killer!
2. Productivity per staff member is below industry average for many agencies.
3. Management and staff costs are too high.
4. Costs are not being managed in line with income.
Here's how to start regaining control:
If you are experiencing high staff churn, you must make time to review your business model and the processes involved in attracting, training, managing and retaining team members. As you might already know, a revolving door deflates morale and punishes productivity. Solving this is the key to better profits.
It's also worth taking a good look at your cost base and cutting out any unnecessary spending. There's no doubt, recruitment agency owners can be bullish, but this shouldn't be the case with expenditure when you are trading at a loss!
If you found this blog post interesting, you might like to read PART 2: New profitability results - how medium recruitment teams are tracking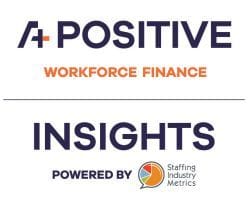 Author:
Nigel Harse FRCSA
About: Highly regarded and widely sought after for his knowledge, unwavering passion and innovation, Nigel is a 40-year veteran of the recruitment industry.
Connect via:
Twitter
LinkedIn