APSCo 2018 Remuneration Survey
Posted by Nigel Harse FRCSA on 29 October 2018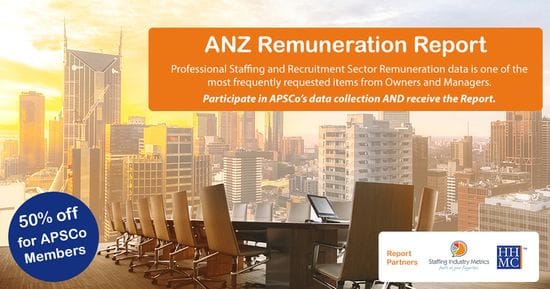 2018 Professional Staffing and Recruitment Sector Remuneration Report
Staffing Industry Metrics and recruitment sector supporters HHMC Global are collaborating on this important project and are calling for participants for the Professional Staffing & Recruitment Sector Remuneration Report 2018.
"Remuneration data is one of the most frequently requested items from business owners and managers and for a number of years, staffing and recruitment organisations have been seeking more detailed remuneration data for the ANZ recruitment sector," says Rod Hore Managing Director of HHMC Global.
"We're very pleased to be able to bring this revamped Report back to the industry who so greatly value it. In this sector's increasingly competitive market, talent attraction and retention has never been so important to employers of recruitment consultants, resources', team managers and more."
Companies who choose to participate in providing data for the report will have access to an interactive online dashboard, as well as the detailed Remuneration Report that provides strong analytics and benchmarks of remuneration data and benefits for like businesses.
The data will be collated on the global business intelligence platform of Staffing Industry Metrics and analyzed by HHMC. Burning Glass will be accessed for some qualitative comparisons.
APSCo Australia is supporting this report, on behalf of its Members, so they receive a 50 per cent discount when participating. APSCo members click here
SIM members who wish to participate in the Remuneration Report and receive a 25% discount should email Carly Fordred who will provide you with a Survey Template and a discounted invoice.

Author:
Nigel Harse FRCSA
About: Highly regarded and widely sought after for his knowledge, unwavering passion and innovation, Nigel is a 40-year veteran of the recruitment industry.
Connect via:
Twitter
LinkedIn