2018 delivers great results but....
Posted by Nigel Harse FRCSA on 25 March 2019

Staff churn continues to make or break recruitment firms as 2019 find its rhythm
The aim of every recruitment agency is to make a profit and the vast majority of firms in Australia and New Zealand achieved this in 2018. In fact, 95% of the recruitment agencies reporting to us made profits in 2018, leaving just 5% of firms trading at a loss the lowest and best result in 7 years.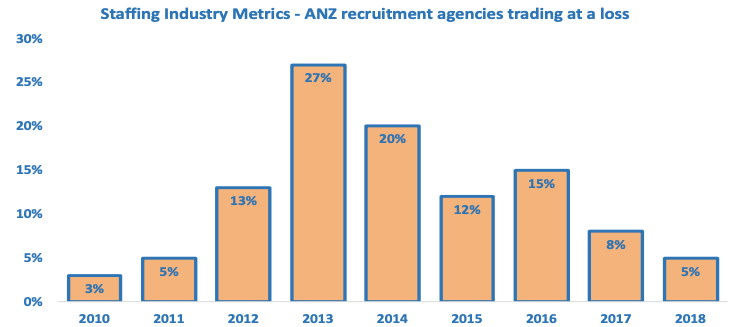 Results from 2018 show that the recruitment industry had an exceptional year with many agencies reaping the rewards from the very buoyant market conditions.
Of the 95% of recruitment agencies which made a profit in 2018, the majority (51%) improved their year on year profits while 14% achieved similar results compared to 2017. The remaining 30% reported a decline in profit compared to 2017.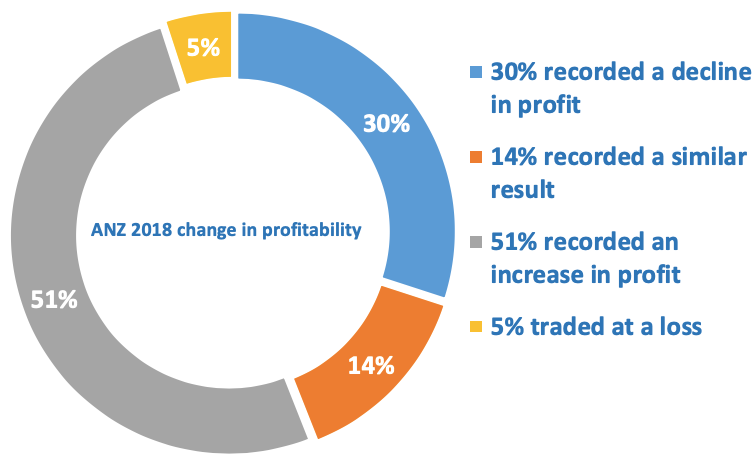 Overall, the average profit increase on the prior year was a very healthy 24% and the good news is that 41% of recruitment agencies reported their best ever profit results. At the same time, the top performing recruitment agencies increased their profits by at least 58% and that's more than double the industry average and a truly impressive result.
As we move through 2019, those recruitment agencies reporting the strongest profits are mainly those that are reaping the benefits of sound hiring decisions, resulting in higher staff retention levels and paying off by delivering better productivity levels.
There's also those who are enjoying the fruits of their labour and making a killing as they continue riding the crest of the wave of permanent recruitment demand.
Despite 2018 finishing as a record year, the 30% who fell short of their 2017 profit figures, were impacted by 3 main factors:
Staff churn was well above average
Failed to ride the perm growth wave
Staffing costs were far too high
While all is not lost for firms falling behind, it's critical that staff churn and the lack of productivity that inevitably follows it, is quickly addressed.
It's not surprising to note that the firms with the best news to share are those who have already implemented sound hiring strategies and have invested in a plan to retain new people once they're in the door.
If you've nailed your hiring then 2019 should continue to spread some joy, even despite the election/change in government looming on the horizon. If there's still some work to do, then now is the time to take action.
With staff turnover still climbing and sitting at a whopping 50% in the industry, there's really no room for complacency, you owe it to your business, your team and to the industry to get it right!
What do you think are the 3 keys to cracking the staff retention issue?

Author:
Nigel Harse FRCSA
About: Highly regarded and widely sought after for his knowledge, unwavering passion and innovation, Nigel is a 40-year veteran of the recruitment industry.
Connect via:
Twitter
LinkedIn