Looking to boost your profits?
Posted by Danny Griggs on 21 May 2018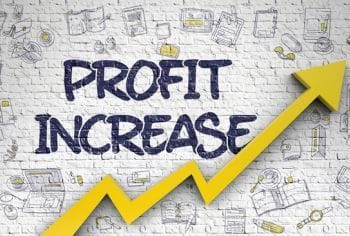 Let's be honest, we would all like our business to be more profitable and many try to achieve this through growth alone, but experience and the data suggest it's sometimes easier to control your costs than it is to generate greater revenue.
What happens if you don't keep your costs in check?

It's no secret that cost is a major concern for any growing company, and in the world of recruitment the additional cost is often in place well before your sales and revenue start to rise.
One of the reasons for growing a recruitment agency is to find economies of scale, so that operational business expense can be dispersed over greater revenue. However, according to SIM data, this rarely happens. And, in fact, quite often many of the firm's operating efficiencies deteriorate as they grow, an unintended and unwelcome consequence.
What's more, poor expenditure habits which may be ingrained in your business place greater pressure on your cash flow. And, without good cash flow you can't grow your business.
To help see how your recruitment agency stacks up, we reveal the total operational costs for the most common recruitment firm sizes in many countries.
Here's what the data shows for the past 12 months.
Agencies with a team of 1 to 10 staff
This size team tends to be the nimblest and most efficient with costs running at an average 80% of gross profit across all 16 countries.

Agencies with a team of 11 to 20 staff
Data relating to teams of this size reveal that the expected economy of scale hasn't yet kicked in with costs creeping up and running at an annual average 84% of gross profit across all 16 countries.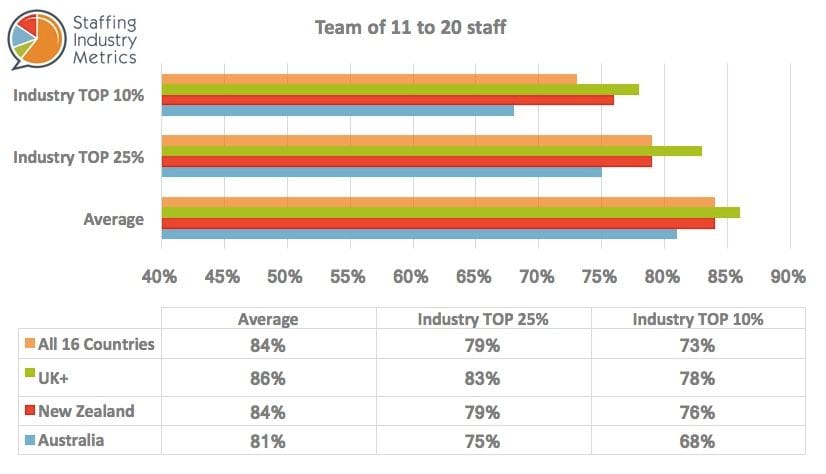 So, if you are looking to boost your profitability there are three main areas where recruitment agencies can often tighten their purse strings to boost profitability:
Top 3 areas where you can save
Marketing - aim to spend 4% to 5% of your gross profit on this activity.
Occupancy - aim to spend less than 6% of your gross profit on rent and rates.
Management and staff - aim to spend less than 50% of your gross profit on keeping a healthy team together.
We have recently launched in the UK and as yet there are insufficient participants to provide results just for the UK, so we have provided results for UK+. This data set relates to 16 agencies operating in the UK and other countries and excludes results from Australia and New Zealand.
In order to continue growing our UK participant base, we are currently offering attractive early adopter rates including a FREE 6 MONTH TRIAL for a very limited period. To take advantage, learn more about what we can do to help you, or to get a snapshot of how your recruitment business is really doing, call Daniel Griggs on +44 203 286 5027 or +44 7515 882942.
If you found this article interesting you may enjoy Profit growth opportunities for recruitment agencies in the Asia Pacific
Interested to see how your performance stacks up to 12 key industry metrics?

Author:
Danny Griggs
About: International recruitment leader with over 30 years experience within the Recruitment, Property, Engineering & Financial sectors. Daniel has develop a portfolio of recruitment & technology businesses from start-ups to public listed multinationals; providing mentoring, training, advising, supporting & sharing his recruitment knowledge. A natural development of these services see's a further business partnership and subsequent UK launch of the digital business intelligence platform, Staffing Industry Metrics.
Connect via:
LinkedIn