Staffing industry survey results are in
Posted by Nigel Harse FRCSA on 22 February 2018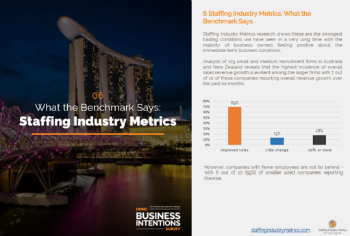 Are you enjoying the strongest trading conditions since 2011? Find out which recruitment agencies are recording the best sales revenue growth.
You might have noticed; many of the staffing industry benchmarks are shifting upwards. And, there's an easy way to discover if your agency is tracking in line with these trends.
For the first time, the HHMC Business Intentions Survey confirms the successes and challenges recruitment agency owners and managers are facing.
The results including aggregated data shared by Staffing Industry Metrics reveal:
What agencies like yours are including in their strategy;
The actual benchmark results versus business intentions;
Where agencies see profit growth opportunities in 2018 and beyond;
Which agencies are preparing succession and exit plans; and
Industry implications for micro businesses.
The survey captured results from 202 agencies in the Asia Pacific Recruitment Industry and was led by HHMC an independent advisory group helping staffing organisations prepare and manage equity transactions.

Respondents included 11% from large agencies with teams of 50 or more, 30% from medium agencies with teams between 11 and 50 staff, and 50% from small firms with teams of less than 10 staff.

Staffing Industry Metrics research included in the survey results and shared with APositive today show these are the strongest trading conditions the industry has seen since 2011, with the majority of business owners feeling positive about the immediate-term business setting.

A snap shot of the data from Australian and New Zealand recruitment agencies shows the highest incidence of overall sales revenue growth is evident among the larger firms with seven out of 10 reporting revenue growth during the past six months.

While 13% of firms recorded minimal change and 18% of firms recorded a decline of 10% or more (see chart below).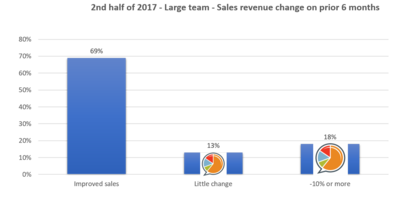 At the same time, companies with fewer employees are not trailing too far behind with six out of 10 (59%) of smaller sized companies recording similar results.

Across both small and medium team sizes, 12% of firms recorded minimal change.

However, of the smaller teams, those with less than 20 staff, almost one third (29%) recorded a decline in sales of 10% or greater, at the same time this fell to just one in five (18%) of larger sized firms recording significant decline.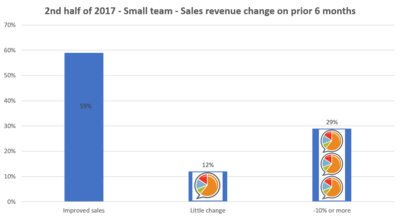 So, while many recruitment firms are reaping the rewards of buoyant market conditions, there are still firms operating at a loss. This could be a result of high staff churn, inadequate training or uncompetitive pay and rewards systems.

Almost one in 10 (9%) firms have recorded a loss for 2017 and once again it's the smaller teams that are feeling the pain.
To find out more, download the HHMC Business Intentions Survey today.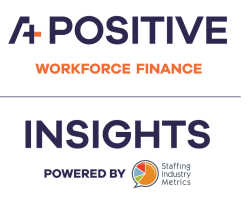 Author:
Nigel Harse FRCSA
About: Highly regarded and widely sought after for his knowledge, unwavering passion and innovation, Nigel is a 40-year veteran of the recruitment industry.
Connect via:
Twitter
LinkedIn