COVID-19: The instant, simultaneous decline of the recruitment industry
Posted by Nigel Harse FRCSA on 23 July 2020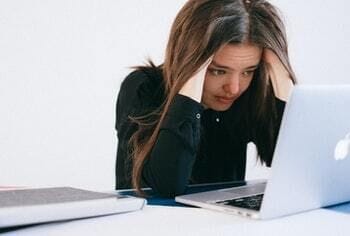 The permanent market crashed like a stone in the midst of the global pandemic. Find out how hard recruitment agencies were hit by region, team size and sector.
When COVID-19 reached crisis mode in late March, the recruitment industry was shocked to its core. For many of us, the world really did change, with work-from home measures, staff reductions, lockdown and isolation becoming overnight burdens. Amidst the fear and uncertainty, it's no surprise that the pipeline for permanent sales was instantly slashed. While the temp/contract market remained stable by comparison, no sector was untouched by the crippling effects of COVID-19. In this post, we reveal just how hard Australian and New Zealand (ANZ) recruitment agencies were hit, and who was hit the hardest. We also discuss what to expect as the crisis continues.

The greatest decline in recorded history
According to SIM data, the instant crash of the permanent market had a devastating impact for 98% of ANZ recruitment agencies, with perm sales for April 2020 falling 67% from the prior month. This is the biggest decline we have seen since we started collecting data in 2003. While many people think of the GFC as the greatest economic crisis impacting recruitment, it pales in comparison to COVID-19. The GFC took 7 months to reach bottom and produce a 69% decline in permanent sales. With COVID-19, the 67% crash happened instantly and all around the world. Some regions and sectors were hit harder than others, but none escaped unscathed.

The year-on-year view is just as shocking, with permanent sales for April and May 2020 plunging 64% from the same period in 2019. The good news is that 70% of recruitment agencies reported an increase in permanent sales in May 2020 compared to April 2020 and early data for June suggests further improvement, although results are still well down from last year.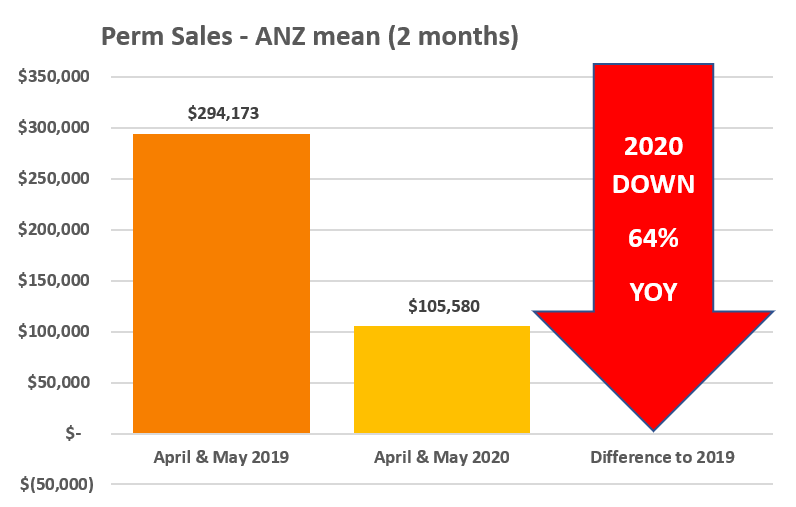 When we zoom out to take a wider view, the figures for the first half of 2020 look grim. ANZ recruitment agencies recorded a 39% year-on-year decline in permanent sales between January and May. These results are expected to slip further, particularly with the second wave of COVID-19 forcing some states back into lockdown. That said, there is still work around, just not in the same volumes.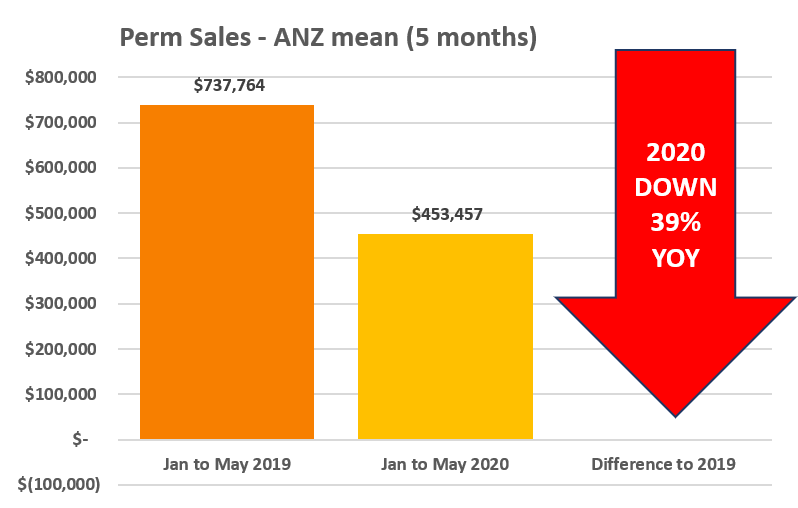 Victorian and 'valley of death' agencies were the hardest hit
The initial impact of COVID-19 was similar across the regions, although Victoria was the hardest hit, recording an average decline of 72% over April and May. In terms of sectors, with the exception of the obvious (like travel and hospitality), the differences aren't apparent just yet. However, the data according to team size reveals some interesting facts.

For permanent sales in April and May 2020:
Teams of 10 or less reported an average 50% decline
Teams of 11 to 20 reported an average 65% decline
Teams of 21 to 40 reported an average 73% decline
Teams of 41 or more reported an average 60% decline
The segment that recorded the highest decline is known as the 'valley of death' (teams of 21 to 40). These recruitment agencies face unique challenges at the best of times. They're too large to be nimble, yet too small to achieve economies of scale. These vulnerabilities proved detrimental during the first months of the pandemic.

Temp/contract sales show resilience
The temp/contract market felt the impact of COVID-19, albeit to a lesser degree. Government restrictions and work-from-home measures resulted in some wild variations, particular for certain sectors. Health, hospitality and travel came to an instant halt, together with many white collar roles. Some recruitment agencies were crushed by the changes, while others were able to adapt quickly and capitalise on the new conditions. Agencies with clients in essential services may have even seen an improvement in sales over April and May.

Overall, the data shows that average monthly temp/contract sales fell by 16% in April. Not a bad result compared to permanent sales, particularly considering the historical data for this time of year. Figures from the past 17 years show that April sales are always lower than March by an average of 18%. This is largely due to the high number of public holidays and the number of weeks in the month. As per the permanent market, early data suggests further improvement for temp/contract sales in June.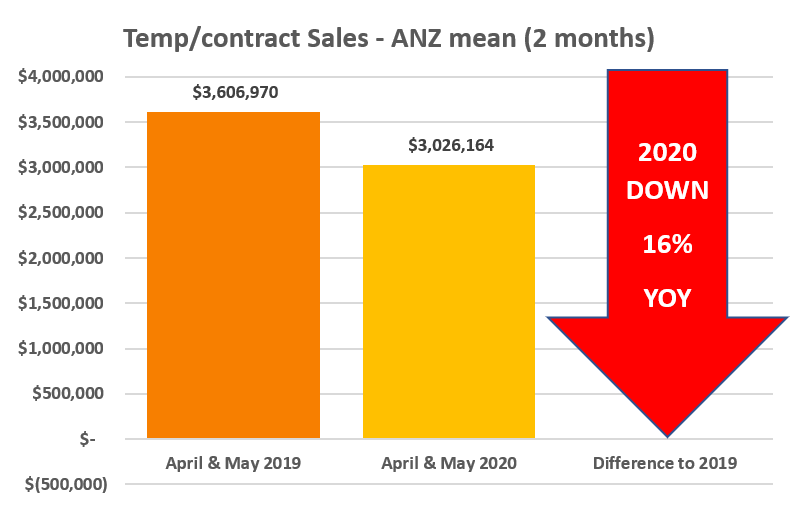 Looking at the period from January to May 2020, the first half of the year shows an average year-on-year decline of 12% for temp/contract sales. Yes, sales were down, and results varied wildly between sectors, but it's clear the temp/contract market was less impacted than permanent. In fact, there's still plenty of life left in this sector, with many businesses across the region needing short-term and flexible staffing solutions. Currently, the most resilient sector is ICT, where many firms are reporting record times.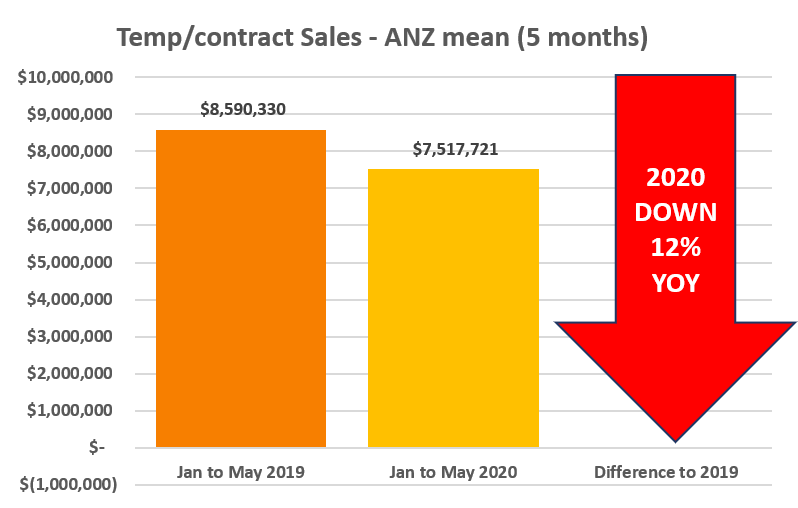 Staff numbers slashed to cut costs
The need to curb operational costs saw many recruitment agencies slash staff numbers. Data shows that 1 in 6 support staff have been axed since January. Victoria recorded the highest decline, with a 30% reduction in support staff. NSW recorded the lowest decline of just 8%, while all other states recorded an average decline of 18% to 20%. In terms of sectors, those most impacted were hospitality, health and white collar. The sector least impacted was ICT. Interestingly, but unsurprising, agencies in the 'valley of death' recorded the greatest reduction in support staff.
Teams of 10 or less reported a 12% reduction in support staff
Teams of 11 to 20 reported a 14% reduction in support staff
Teams of 21 to 40 reported a 28% reduction in support staff
Teams of 41 or more reported a 15% reduction in support staff
Limited data from the UK shows similar patterns to ANZ.
Income producers felt the pinch
Income producers (client, candidate or prospect facing) were similarly slashed across ANZ. Data shows that 1 in 8 income producers were axed in March, followed by 1 in 7 in April, then a further 10% in May an average reduction of 36% over 3 months. Victoria and NSW experienced the highest reduction with 35% and 30% respectively, compared to an average of 20% to 25% across all other states. Once again, 'valley of death' teams suffered the most according to the stats.
Teams of 10 or less reported the lowest reduction of 10% to 12% between January and May
Teams of 11 to 20 reported a 24% reduction in May
Teams of 21 to 40 plus reported the highest reduction of 31% over 3 months
Teams of 41 plus reported early reductions of 20% in March and a further 10% in May
Final thoughts
Recruitment agencies around the world have been devastated by COVID-19. The permanent market suffered the greatest crash in recorded history, while temp/contract experienced some wild variations. Smaller teams of 10 or less have showed the most resilience show far, while teams in the 'valley of death' have recorded the biggest losses. There are many tough months ahead and it's still too early to tell how things will look on the other side. However, despite the reduction in work volume, there are still opportunities for recruitment agencies particularly in the temp/contract market and specialist sectors like ICT.
For more insights and advice on how to navigate COVID-19, refer to our previous posts:
Is your recruitment agency ready for life after COVID-19?
Coronavirus: Impacts and recommendations for recruitment agencies
Need a meaningful, objective but discreet sanity check?
Find out how your business stacks up against current industry results with a free Discreet & Complimentary Health Check. You'll get access to a personal dashboard, with 12 Reports highlighting benchmark comparisons specific to you.

Author:
Nigel Harse FRCSA
About: Highly regarded and widely sought after for his knowledge, unwavering passion and innovation, Nigel is a 40-year veteran of the recruitment industry.
Connect via:
Twitter
LinkedIn